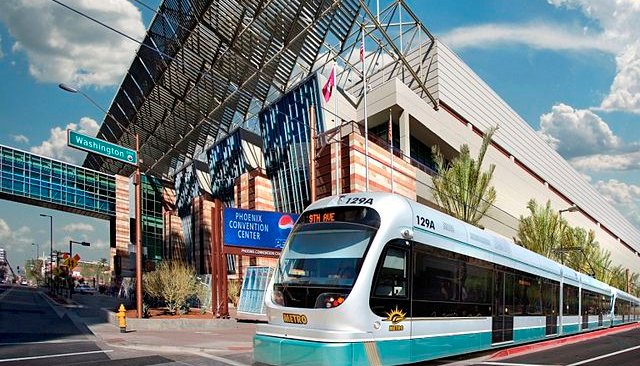 Phoenix is quickly becoming a U.S. hotbed for tech innovators and digital marketers as it grows into one of the newest big tech centers in the country.
There's a lot happening in Phoenix and in the surrounding Valley of the Sun. You may know that the Phoenix Metropolitan Area is one of only 13 U.S. metro areas to have all four major pro sports teams. But did you know it's also the 13th-largest U.S. media market ranked by The Nielsen Company and has the 13th-largest convention center in the country? It's also one of the top travel destinations in the United States, ranked tenth in number of hotel rooms at 66,500, with some of the top resorts in world.
Beyond its epic professional sports, entertainment and luxury travel amenities, Phoenix ranks as the sixth-largest U.S. city, and its huge metropolitan area is home to large corporate, operations and regional offices for the digital marketing, data services and high-tech industries.
The Phoenix Metro services either headquarters or large operations for big-name technological and on-line firms such as Amazon, Apple, Clear Channel Outdoor, Ebay, GoDaddy, G/O Digital, Intel, LifeLock, PayPal, Shutterfly, and many others, including, CyrusOne, Digital Realty, InfusionSoft, Insight Enterprises, JDA Software Group, Jobing.com and Phoenix NAP.
The area has emerged as a hot destination for the operations of fast-growing tech start-ups and fast-growth companies, such as Axosoft, CA Technologies, Limelight Networks, Nextiva, SOOH Media, Uber, Weebly, Yelp, Zenefits and ZocDoc.
Large agencies for advertising, digital interactive, integrated marketing, public relations and social media disciplines operate in the Phoenix Metro, including Allison+Partners, Cramer-Krasself, Defero, Gordon C. James, LaneTerraLever, The Lavidge Co., McMurry/TMG, Moses, Off Madison Ave., Riester, Sitewire, Zion & Zion, among others, including hundreds of niche creative, graphics and video studios, and interactive digital marketing and communications firms.
In addition, Inc. 5,000 marketing firms such as BlueMedia, Digital Air Strike, Ethology, Gate6, Owens Harkey, Tempo Creative, Vertical Measures and ZOG Digital are based in the Phoenix Metro.
Hot beds of innovation and creativity are springing up from East to West in the Valley of the Sun, especially in Downtown and Innovation Corridor in Phoenix, and in Chandler, Mesa, Gilbert, Tempe and Arizona State University, home to the largest enrollment by a public university campus in the United States at more than 60,000. Meanwhile, Scottsdale features several high-growth tech and innovation cores, including its Galleria Corporate Center located Downtown, Loop 101 corporate corridor, Scottsdale Airpark and SkySong Innovation Center.
Become a part of the growth and excitement in innovation and digital marketing by joining the top industry group for Phoenix Metro marketing, ad and PR pros: www.AMAPHX.org.
Matt Kalina | Scottsdale, AZ | @MattKalina | LinkedIn.com/in/MattKalina
Originally published 06-19-15 | Updated 11-06-17, 04-17-17