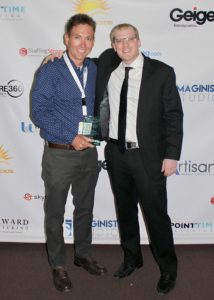 Matt Kalina, founder of RadPrime, won the Board Member of the Year Award at Spectrum Awards 2018, presented by American Marketing Association, Phoenix Chapter.
Kalina, vice president of membership for AMA Phoenix, serves on the association's board of directors. AMA Phoenix is the largest industry group for Phoenix Metro marketing, ad and public relations professionals.
Approximately 250 marketing professionals from the Greater Phoenix Metropolitan Area participated at the 16th annual Spectrum Awards event at Sun Studios of Arizona, Tempe, Ariz, May 10, 2018. A total of 37 finalists, representing advertising, marketing and public relations professionals were recognized at the awards event and 53 awards were presented.
Originally published 05-10-18